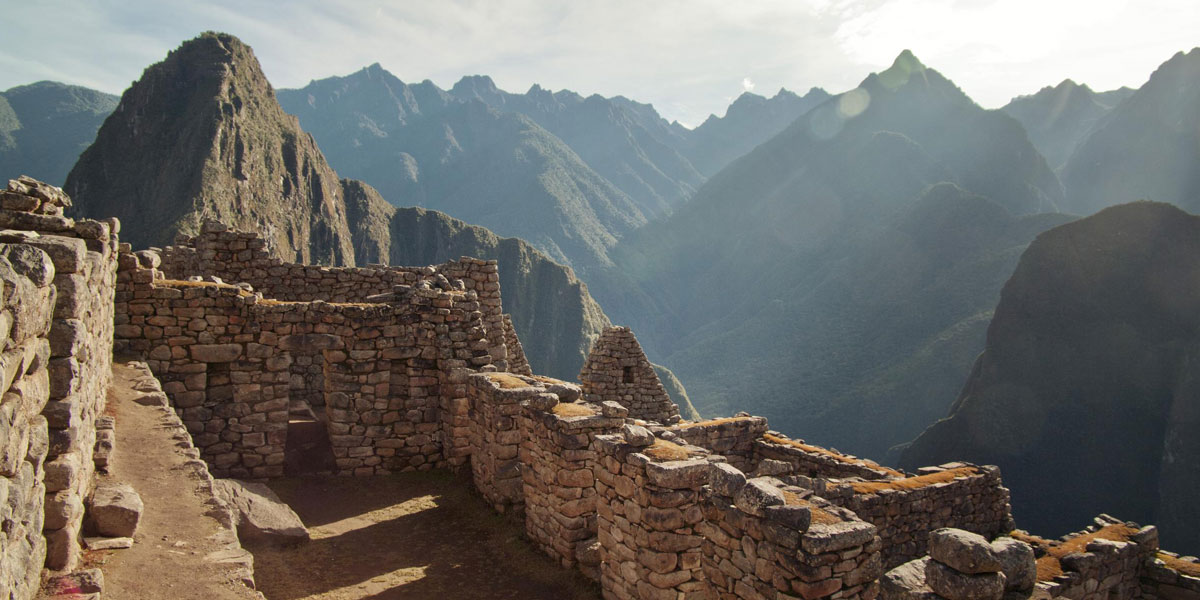 From USD 3,599 per person
INFO
Experience the breathtaking landscapes and rich cultural heritage of Peru as we travel to the country's renowned archaeological sites as well as lesser known wonders. Discover the timeless local traditions of Lake Titicaca, wander the halls of a colonial-era convent in Arequipa, and delight in views of the Sacred Valley from the train to Machu Picchu. Ponder the mystery of the Nasca Lines, and soak up the charms of vibrant Cusco, the former capital of the Inca Empire.
PACKAGE CODE
SPING
SALES VALIDITY
Up to 31 October 2022
INCLUDE
Your Journeys Highlight Moment: Arequipa Cooking Class, Arequipa
Your Journeys Highlight Moment: Traditional Andean Experience, Urubamba
Your Journeys Highlight Moment: Cusco Planetarium, Cusco
Your Journeys Highlight Moment: Lake Titicaca Community Home Lunch, Lake Titicaca
Your G for Good Moment: Parwa Community Restaurant the Sacred Valley, Lamay
Your G for Good Moment: Parque de la Papa (Potato Park), Pisac
Your Foodie Moment: Pisco winery visit and tasting, Paracas
Your Hands-On Moment: Pachamanca, Nazca
Your Discover Moment: Cusco
Arrival transfer
Ballestas Islands boat trip
Visit the Chauchilla cemetery and potter's workshop in Nazca
Arequipa city tour including the Santa Catalina Convent
Guided boat tour of Taquile and Uros Islands on Lake Titicaca
Sacred Valley and Ollantaytambo ruins guided tour
Scenic train and guided tour of Machu Picchu
Internal flights
All transport between destinations and to/from included activities

MEALS INCLUDED

14 breakfasts, 4 lunches, 1 dinners
Allow USD455-595 for meals not included.
Day 1 - Lima
Arrive in Lima at any time. On arrival you will be picked up and transferred to your hotel.
Please note that hot water shortages and power outages can be fairly common in Peru (even in upgraded hotels and private homes). We appreciate your patience and understanding that these occurrences are outside of our control.
Private Vehicle
On arrival you will be picked up and transferred to your hotel.
Arrival Day and Welcome Meeting
The adventure begins tonight. Feel free to explore before your welcome meeting, but make sure you're back in time to meet the group. Check for the meeting time on the welcome note at the hotel. After introductions, your CEO will review the details of your tour. Please note that normal check-in times apply at our start hotels, but you can usually store your luggage for the day if you arrive early.
Hotel
Hotel Antigua Miraflores (or similar)
Day 2 - Lima/Paracas
Enjoy a drive down the coastal desert to Paracas, a sleepy fishing village that serves as the starting point for all tours to the Ballestas Islands.
There is little to do in town, but for those that love seafood and are looking to try Peru's national drink, the Pisco Sour, it's heaven.
Private Vehicle
Settle in and scan the scenery from the convenience of a private vehicle.
Hotel
Posada del Emancipador Hotel (or similar)
Day 3 - Paracas/Nazca
The Ballestas Islands are often referred to as "the poor man's Galapagos." Home to hundreds of sea lions and many species of marine birds, including the Humboldt penguin, incredible wildlife spotting is pretty much guaranteed.
Continue south by land to Nazca with a stop to see the Huacachina sand dunes along the way.
Ballestas Islands Trip
Get ready to do some amazing wildlife watching on this trip to Ballestas Islands (aka Lima's Little Galapagos) on the Peruvian Coast. Spot playful sea lions, Humboldt penguins, boobies, pelicans, and more than 200 species of sea birds. Be sure to bring a camera to capture some amazing pics.
Pisco winery visit and tasting
Located in the Ica Valley, the picturesque Tacama Winery is one of South America's oldest. Take a guided tour of its vast grounds and learn about the production of wine and spirits in Peru. Round off your visit with a taste of Tacama's award-winning pisco.
Huacachina Sand Dunes
Take a tour of the magical sand dunes in the pleasant colonial town of Huacachina. Climb to the top of the huge dunes and be rewarded with amazing views; the dunes surround a beautiful turquoise lagoon lined with palm trees, and rolling sand dunes decorate the horizon. Try to reach the summit for sundown when the landscape is washed with amazing colour. And take advantage of trying a new sport while you're there. Wax up a sandboard, and take the fast way down. It's something like snowboarding (but on sand, of course).
Lodge
Casa Andina Standard Nazca (or similar)

Day 4 - Nazca
Nazca is home to one of the world's greatest archaeological mysteries, the Nazca Lines. The entire desert area was also once the home for the ancient Paracas and the Nazca cultures, which preceded the Incas by more than half a millennium.
Nazca Desert Cemetery and Potter's Studio Guided Tour
See remains of the Nazca culture during an included tour of the ancient Pre-Inca desert cemetery site of Chauchilla. Spot 1500-year-old mummies, bones, and pottery on the desert floor. The entire desert area was also once home to the ancient Paracas and the Nazca cultures, which preceded the Incas by more than half a millennium. Stop for a visit at an artisan's workshop, where modern masters create Nazca style pottery.
Pachamanca
Enjoy a traditional dinner. Assist in the preparation of a thousand-year-old tradition: "Pachamanca," an ancient ceremony akin to the Polynesian meal of burying a variety of delicious treats wrapped in banana leaves and slow-cooking them with pre-heated rocks buried in the ground.
Hotel
Casa Andina Standard Nazca (or similar)
Day 5 - Nazca/Arequipa
Embark on a very long drive, which will include rest stops and lunch at Oasis Camana.
Private Vehicle
Settle in and scan the scenery from the convenience of a private vehicle.
Hotel
Casa Andina Standard Arequipa (or similar)

Day 6 - Arequipa
Peru's second most important city after Lima, Arequipa maintains a traditional colonial style and more laid back pace in comparison with the capital. Spectacular mountains surround Arequipa, the most famous of which is El Misti Volcano. Standing at 5822m (19096 ft), it has a beautiful snow-capped peak.
Arequipa City Tour
Get out and explore "the white city" on this walking tour, stop at picturesque viewpoints to capture the surrounding volcanoes, marvel at the white volcanic sillar rock architecture, and visit one of the most stunning colonial buildings in the country, Santa Catalina Monastery.
Santa Catalina Convent Visit
Tour the Convent of Santa Catalina during the city tour, offering a brief respite from the outside world and a unique view into a by-gone way of life. Those with an interest in history, culture, and architecture will definitely enjoy the visit.
Arequipa Cooking Class
Ready to dig in to Arequipa's renowned regional cuisine? Head to a popular local restaurant for a gastronomic adventure. Located amongst charming cloisters in the city centre, the restaurant is a traditional "picantería" serving up local delicacies like "cuy" (guinea pig) and fried cheese with native potatoes. Learn from the best with a cooking class led by one of the chefs before sitting down to a delicious three-course meal. Be sure to try the rocoto relleno (stuffed spicy peppers) and sample a glass of "chicha."
Hotel
Casa Andina Standard Arequipa (or similar)
Day 7 - Arequipa/Cusco
Every year Cusco attracts thousands of travellers who come to delve into its noble but tragic past. It is the perfect base for optional explorations around the city and area as well as a range of outdoor activities. Relax and explore this fascinating city, and take time to acclimatize to the high altitude.
Hotel
Taypikala Hotel Cusco (or similar)
Day 8 - Cusco/Urubamba
EDrive to the scenic Sacred Valley for a full day of exploration with a local guide. Tour the G Adventures–supported Parque de la Papa, or Potato Park, a rural Andean community working to preserve hundreds of varieties of native potato. During this exclusive experience, you'll walk through the park to learn about potato cultivation, traditional weaving, and the importance of both these practices to Andean culture. We'll also visit the fascinating Inca ruins of Ollantaytambo and Pisac, and enjoy a meal at the G Adventures–supported Parwa Community Restaurant in Huchuy Qosqo, an indigenous village.
Private Vehicle
Times includes all stops and visits enroute through the Sacred Valley.
Pisac Ruins Guided Tour
Tour the fascinating hilltop citadel of Pisac, an Incan ruin with plunging gorges, a ceremonial centre, and winding agriculture terracing that's still in use today. Be captivated by this truly amazing site sitting amid sweeping green valleys and mountain peaks. Explore the back of the site to see a pocketed cliff across Kitamayo Gorge, which once contained hundreds of Inca tombs.
Ollantaytambo Ruins Guided Tour
Tour the town and fortress of Ollantaytambo with a local guide. Take a step back in time at this Inca archaeological site; it still shows signs of its former glory, including agricultural terraces, a Temple Hill, and storehouses. Learn how the area, overlooking the Urubamba River Valley, was an important stronghold during warfare between the Spanish and Incas.
Parwa Community Restaurant the Sacred Valley
Contribute to sustainable tourism in Huchuy Qosqo, a small village of 65 families in the Sacred Valley, by eating at the Parwa Community Restaurant. Learn how the resident-run restaurant was kickstarted by G Adventures and the Multilateral Investment Fund, to become a successful farm-to-table program that boosts the local economy and several spin-off microenterprises.
Traditional Andean Experience
In Peru's Sacred Valley of the Inca, six communities of approximately 6000 indigenous people are working together to preserve over 700 species of potato – a cornerstone of life here. As part of an experience exclusive to National Geographic Journeys travellers – and part of our G Adventures for Good program – visit this area, named "Parque de la Papa" ("Potato Park"), to learn about life in an Andean agricultural community. Walk through the park here with a local guide, dropping by the seed bank (which has direct ties to the Svalbard Global Seed Vault in Norway) and then head out to the fields to watch the planting or harvesting process, depending on the season. After, enjoy some of the delicious varieties of potato and visit the small stone hut where traditional weaving takes place. Learn about the natural dyeing process and witness alpaca wool strands being transformed into beautiful textiles through a centuries-old backstrap weaving style. Your visit to this special community means this local enterprise can continue earning an income that supports their development and conservation goals.
Parque de la Papa (Potato Park)
Parque de la Papa (meaning "Potato Park") serves two important purposes for the community of Pampallacta: the preservation of agricultural biodiversity and economic opportunity. National Geographic Journeys travellers visit the park to learn about life in a rural agricultural Andean community and take a tour of the seed conservation program, which is preserving heritage potato species. They also learn about traditional planting, harvesting and indigenous weaving practices. With G Adventures' support, the community is able to create jobs in the area and invest in local businesses, which helps the community preserve their culture.
Lodge
Villa Urubamba (or similar)
Day 9 - Urubamba/Aguas Calientes
Board a morning train that winds through the spectacular Sacred Valley to the end of the line: the village of Aguas Calientes, a frontier town nestled in the hills beneath Machu Picchu. This is the closest town to Machu Picchu, making Aguas Calientes an ideal night stop.
To best enjoy this area, take advantage of the opportunity to visit the butterfly house, botanical gardens, or hot springs. Opt for a day hike to Mandor Gardens to see orchids and a waterfall, enjoying the lush, green scenery en route.
Please bear in mind that the town has several amenities, but is also geographically remote meaning services are sometimes more basic than one would assume. As the only option for travellers visiting Machu Picchu, the development of infrastructure has happened quite quickly, much without proper planning, and the focus on providing quality service may not be up to the standards experienced in other parts of the country.
Private Vehicle
Settle in and scan the scenery from the convenience of a private vehicle.
Train
Climb aboard, take a seat, and enjoy the ride.
Free time
Enjoy some free time for optional activities or just relax.
Hotel
Hotel Taypikala Machupicchu (or similar)

Day 10 - Aguas Calientes/Cusco
Rise early to take advantage of viewing Machu Picchu in the early morning light. This is the best time to view the "lost city of the Incas." Join our local guide for a detailed interpretation of the site and Inca history without the pressure of other tour groups that arrive at midday.
Later in the afternoon, return by train to Ollantaytambo or Poroy and then transfer by van to Cusco, arriving in the evening.
Local Bus
Climb aboard, grab a seat, and enjoy the ride.
Machu Picchu Guided Tour
Rise and shine – the best time to see the Lost City of the Incas is in the early morning light. Follow the local guide to Machu Picchu to learn about its history at a leisurely pace. Gain local insight into the Inti Mach'ay cave, Inti Watana, the Temple of the Water, the Temple of the Condor, and the Room of the Three Windows. Take time to sit and feel the energy of this 15th-century site, now both a UNESCO World Heritage site and voted one of the new Seven Wonders of the World (in a worldwide Internet poll).
Train
Climb aboard, take a seat, and enjoy the ride.
Private Vehicle
Settle in and scan the scenery from the convenience of a private vehicle.
Hotel
Taypikala Hotel Cusco (or similar)
Day 11 - Cusco/Puno
Take in the Plaza de Armas (main square) and explore a city steeped in tradition. There are numerous optional activities including horseback riding, mountain or motor biking, rafting, hiking or visits to Inca ruins or museums around town.
Please note if you pre-book the Cusco Cooking Class, on day 11 you will be picked up from your hotel at approx 12:30 and taken to a local market and restaurant to prepare and enjoy a traditional Peruvian meal. You will return back to your hotel around 16:00.
Free time
Free time to wander around Cusco. Take in the sights on horseback or rent a motorbike for a more thrilling ride. Looking to learn more about Cusco? Head to one of the many museums in the city.
Cusco Planetarium
Look to the night sky for a different view of the city. Explore the Cusco Planetarium surrounded by the serene nature of the Llaullipata Ecological Reserve. Enjoy a presentation on the southern sky, contemporary astronomy, and the ancient Incas' relationship with the cosmos. Check out the on-site museum and use the telescopes to admire the stars (weather-permitting).
Hotel
Taypikala Hotel Cusco (or similar)

Day 12 - Cusco/Puno
The trip to Puno takes the better part of the day, and includes stark, beautiful scenery en route as you travel through the high Altiplano region.
Located at 3830m (12,566 ft) above sea level, Puno is the highest night stop on the tour. As a result the weather can be extreme with very cold nights and a strong sun during the day. You also should take some time to acclimatize to the high altitude.
Private Vehicle
Settle in and scan the scenery from the convenience of a private vehicle
Hotel
Casona Plaza Hotel Puno (or similar)

Day 13 - Puno
In the morning, board a comfortable 35-foot fully equipped speed boat to explore the lake. Stop at various islands to enjoy the lake's scenic splendor and to meet the friendly people of these communities.
Day Trip to Lake Titicaca
Head out for a day on beautiful Lake Titicaca. Travel to Taquile Island to visit the community and check out the spectacular views. Do some shopping at the local weaving cooperatives and learn about the Taquileños, known for their fine handwoven textiles and clothing.
Continue on to the floating islands of Uros. Learn about the totora reeds that grow in the shallows of Lake Titicaca used to make everything from the islands themselves to the boats the islanders use for transportation (if constructed well, they last up to six months). Find out from locals how the islands are constructed; as the layers closest to the water start to rot, they are replaced with fresh reeds on top.
Lake Titicaca Community Home Lunch
Visit the Luquina Chico community on the shores of beautiful Lake Titicaca and take in sweeping views of the lake and its islands. During lunch in the home of a local family, get a personal view of everyday life in rural Peru.
Hotel
Casona Plaza Hotel Puno (or similar)

Day 14 - Puno/Lima
Time for some last-minute shopping in Puno before the flight back to Lima and the final stop on the journey. Enjoy one last night out on the town.
Hotel (or similar)
Hotel Antigua Miraflores
Day 15 - Lima
Depart at any time.
Departure Day
Not ready to leave? Your CEO can help with travel arrangements to extend your adventure.
Sales period: up to 31 October 2022
Travel period: up to 31 March 2023
Subject to availability.
Price displayed based on per person, in USD, on twin sharing basis, land arrangement only.
Price displayed based on lead-in, low season, applicable on selected departure dates.
Price may vary depending on actual travel dates selection.
Price displayed are indication and is dynamic, subject to change without prior notice.
Program and inclusions as listed. Optional tours expense not included.
Package does not include air ticket, tipping, travel insurance, personal expenses and any other incidental costs.
Price subject to change without prior notice.
G Adventures booking terms conditions apply. Visit www.gadventures.com/terms-conditions/booking-terms/ for full details.
Other terms & conditions apply. Visit www.cit.travel/terms or more terms & conditions.