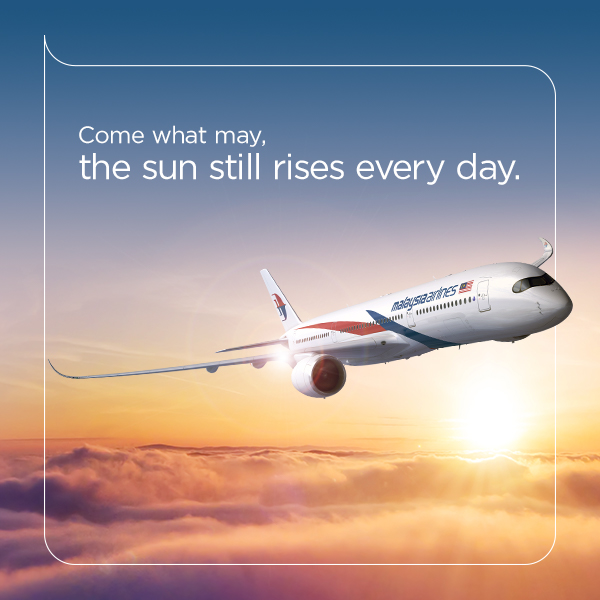 The past few weeks have been no less challenging than the months before when the COVID-19 pandemic first affected our lives. Nonetheless, as the sun still rises every day, it means we have a new day to look forward to. So, let us rise in hope as we continue to navigate our way in this season.
In terms of air travel, our home base, Malaysia's borders remain closed. However, as the national carrier, we believe we have a duty to serve and reunite our fellow Malaysians who are stranded abroad with their families.
On Friday, 15 May 2020, flight MH148 departed from Melbourne, Australia, carrying 143 stranded Malaysians consisting of students and tourists including the elderly. The flight arrived at KLIA on Saturday 16 May, where passengers returned home for the first time since the enforced Movement Control Order (MCO) started on 18 March 2020. After months of uncertainty, the passengers expressed relief that they can finally return home.
We have also made available subsequent flights to and from Perth and Sydney plus flown students back to and from Labuan, Kuching, Sibu, Surabaya and Ho Chi Minh as well as Chinese nationals from London to Guangzhou.
We are also partnering with the United Nations World Food Programme to provide humanitarian flights from Kuala Lumpur to Kathmandu, Nepal and vice versa to transport passengers and essential cargo.
Due to the reduction in passenger travel demand, we have also shifted our focus on passenger-to-cargo flights. These flights carry essential items and medical supplies needed by hospitals and frontliners across Malaysia and around the world.
Our travel flexibility programme still stands as we would like to ensure peace of mind for your travels. If you have booked flights on or before 30 June 2020, you can have the freedom to make unlimited changes to travel dates with the change fees waived or have the flexibility to plan for a new destination (re-route from original destination) in which fare differences may apply. We have also extended the travel period to 30 June 2021 to give you more flexibility in your travel arrangements. Do rebook your flight by 31 Dec 2020 so we can make the necessary arrangements. We appreciate your understanding as we continue to monitor the situation with your best interest in mind.
Since the start of the COVID-19 outbreak, Malaysia Airlines has implemented various enhanced safety measures for the well-being of our passengers and staff in accordance to recommendations by health authorities. Although in-flight social distancing is no longer imposed, the existing requirements for passengers to bring and wear their own protective masks before boarding and throughout the duration of the flight (except during meal times) and other safety and health protocols on ground prior to departure remain unchanged. These measures include temperature checks, sanitisation and disinfection of all premises and facilities, enforcement of social distancing during queues and installation of protective screen barriers at check-in counters and transfer desks at KL International Airport.
These health and safety precautionary measures are also extended to the Malaysia Airlines Golden Lounges which will be re-opened on 1 July 2020. While on board, in-flight entertainment will continue to be available as we would like your journey to be a pleasant one. Personal hygiene kits consisting of a hand sanitiser and an extra face mask will also be provided to all passengers. Wi-Fi connectivity and hygienically-packed comfort amenities will be available on selected flights.
Rest assured that all our aircraft are cleaned and disinfected before and after every flight, while lavatories will be cleaned during the flight at more frequent intervals. Other in-flight offerings such as reading materials and in-flight duty-free sale will be suspended for the time being as a precaution. Upon arrival, we will also ensure all luggage bags are sanitised.
With that said, we are happy to announce that we now have more flights available for domestic travel as interstate travel in Malaysia is now permitted by the Malaysian government. We will be adjusting our network capacity from time to time to ensure passenger demands are met. Do check the entry and exit requirements for your journey as we will continue to keep you up to date.
May your days ahead be filled with hope as the sun rises each new day. Thank you for believing in us and we look forward to having you on board.
Yours sincerely,
Izham Ismail
Group Chief Executive Officer