One-Stop Student Travel Centre
Students Travel is a division of Corporate Information Travel Sdn Bhd.
Travelling as a group when you are a student is definitely one of the most exciting travel experiences you can have. CIT also offers unbeatable student deals through our all-inclusive student vacation packages! We specialise in student travel by extending the following services: competitive student airfares, hotels and tours reservation, pre-departure briefing, student visa application, student travel insurance and more. We even offer exclusive deals such as student airfare rates.
With our student travel deals, you can go further and get the most out of your time in school. You'll find all the resources you need to go on your next trip right here. You will get special travel deals from our partners – including student flights, cheap hotels, tour packages and more. Rest assured that all of our student airfare deals come with the most competitive prices that you can find anywhere. To know more about our all-inclusive student vacation packages, send us an enquiry today!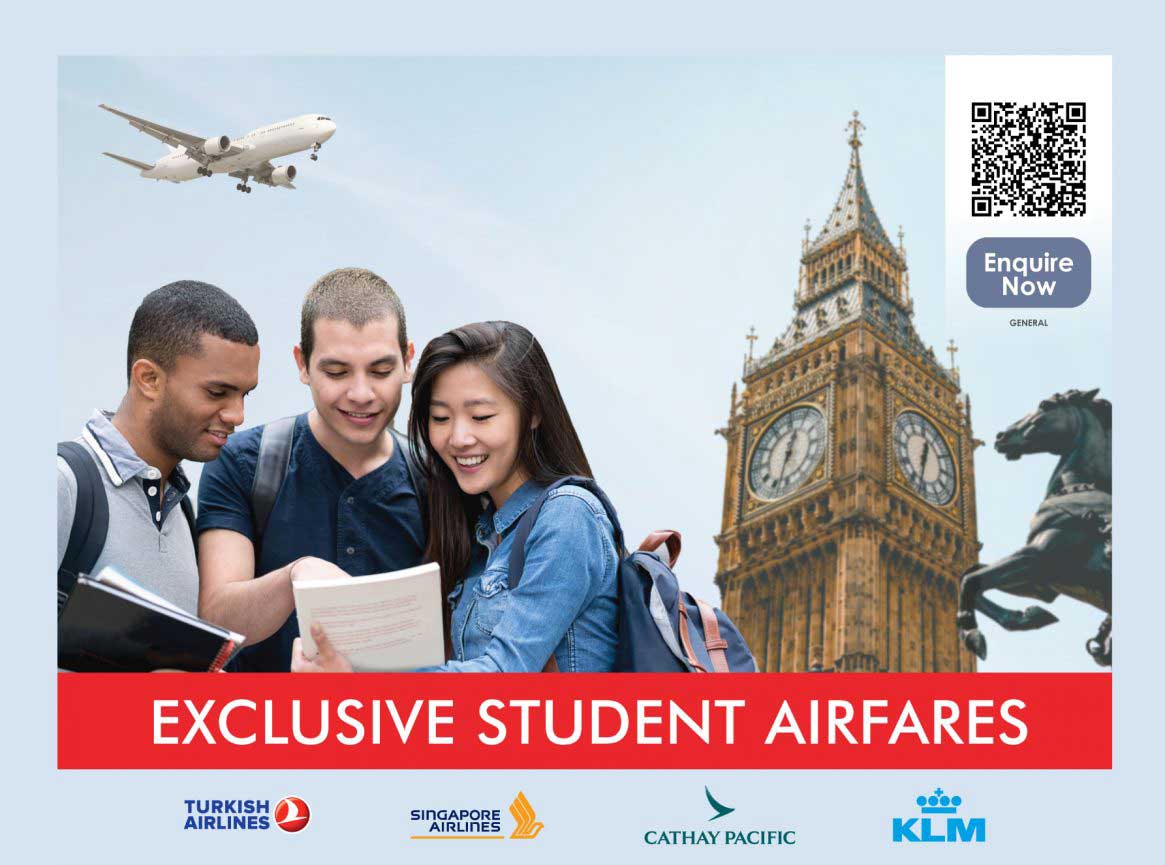 | | |
| --- | --- |
| Turkish Airlines / Singapore Airlines / Cathay Pacific | Booking validity: up to 31 Aug 2021 | Travel validity: immediate till further notice |
| KLM | Booking validity: up to 31 Aug 2021 | Travel validity: immediate till further notice |
LONDON
One-way
(from RM)
Round-trip
(from RM)
Singapore Airlines
1,670
3,340
Cathay Pacific
1,870
3,520
Turkish Airlines
1,980
4,080
KLM
2,150
3,740
MANCHESTER
One-way
(from RM)
Round-trip
(from RM)
Cathay Pacific
1,590
2,940
Singapore Airlines
1,670
3,240
Turkish Airlines
2,230
4,400
KLM
2,270
4,020
BIRMINGHAM
One-way
(from RM)
Round-trip
(from RM)
Turkish Airlines
2,120
4,180
KLM
2,150
3,730
EDINBURGH
One-way
(from RM)
Round-trip
(from RM)
Turkish Airlines
1,960
3,920
KLM
2,260
3,950
NEWCASTLE
One-way
(from RM)
Round-trip
(from RM)
KLM
2,220
3,880
HUMBERSIDE
One-way
(from RM)
Round-trip
(from RM)
KLM
2,420
4,370
BRISTOL
One-way
(from RM)
Round-trip
(from RM)
KLM
2,320
4,120
CARDIFF
One-way
(from RM)
Round-trip
(from RM)
KLM
2,320
4,110
DUBLIN
One-way
(from RM)
Round-trip
(from RM)
Turkish Airlines
2,100
3,660
KLM
2,380
3,630
BELFAST
One-way
(from RM)
Round-trip
(from RM)
KLM
2,300
4,100
| | | |
| --- | --- | --- |
| Benefits | Date Change Penalty | FREE Check-in Baggage Allowance |
| | F.O.C | 2 pieces (2x23kg) |
| | F.O.C | 40kg |
| | F.O.C | 40kg |
| | 1st change F.O.C | 40kg |
Terms & Conditions
All prices are inclusive of airport taxes which is subject to change without prior notice
Round trip price is based on one year validity
Weekend or High season surcharges may apply
Fare difference may apply in the event of date change
Available for departure from East Malaysia, Penang, Johor and etc for selected airlines
Airline and CIT's terms & conditions may apply and subject to change without prior notice.
For other cities, feel free to contact us