By Adeline Soh
Australia is home to a huge diversity of animal species from cuddly favourites to big critters with bite! Come and meet the cute creatures that call Australia home, where many if it can only be found on this continent. Here top few amazing animals to encounter during your visit to Australia and how to experience Australian wildlife responsibly. Come and say G'Day to these Australia's unique wildlife.
Kangaroo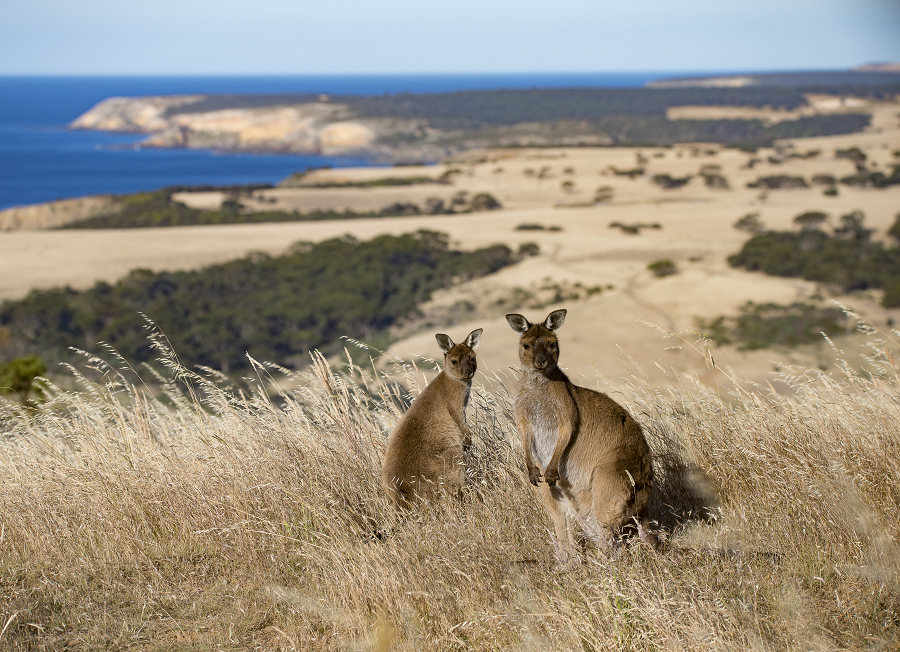 Image Credit: Exceptional Kangaroo Island
Australia national icon, the kangaroo, is plentiful in Australia and there are lots of opportunities to spot them in the wild. These ''roos'' are sociable creatures, so don't be surprised if one hops over to say g'day. You're most likely to spot kangaroos in the early morning and late afternoon when they wake up from their sleep.
Here are some fun facts about kangaroos;
Kangaroos Joeys are the size of a jellybean (Baby kangaroos are called joeys)
Kangaroos can't move backwards
Kangaroos are 60 species of kangaroos
Kangaroos can hop 8 metres (25 feet) in a single bound
Female kangaroos can pause their pregnancies.
Here are some spot where you can see kangaroos in the wild. Keep your distance from wild kangaroos and never feed them.
Roos on the beach – Lucky Bay in Western Australia, Pebbly Beach loated in South of Sydney, Barrington Coast in North of Sydney, Cape Hillsborough National Park in Queensland
Roos on the island – Kangaroo Island in South Australia, Maria Island in Tasmania
Roos on the grassy plains – The Australian National Botanic Gardens in Canberra, Flinder Ranges in South Australia
Roos on the trees – Daintree Rainforest and Wildlife Habitat Port Douglas in Queensland
Roos in the vineyards – Margaret River in Western Australia, Hunter Valley in New South Wales, Barossa Valley in South Australia, Canberra's vineyards in Canberra
Koala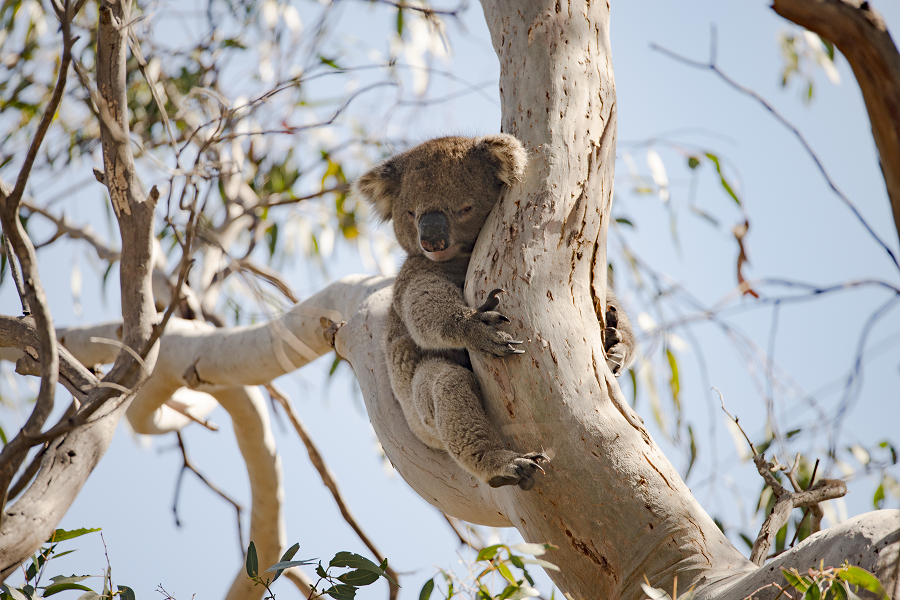 Image credit: Exceptional Kangaroo Island
The cute and cuddly koala is one of Australia's most popular and well-loved animals.
Here are some fun facts about koalas;
Koalas aren't bears – they're marsupials
Koalas are fussy eater
Koalas can sleep up to 18 hours a day
Koalas smells like eucalyptus
Koalas make strange sounds
Koalas like to spend time alone
Best places to spot wild koalas;
Kangaroo Island in South Australia
Raymond Island, a four-hour drive from Melbourne in Gippsland, could quite possibly be the most relaxed island in Victoria – not just for its dreamy scenery, but for the large population (around 250) of koalas
Great Ocean Road and Cape Otway, Victoria
Tilligerry Habitat Reserve, Tanilba Bay, New South Wales
Magnetic Island from the shores of Townsville in Queensland
North Stradbroke Island, off the coast of Brisbane
Noosa National Park, Queensland
Yanchep National Park, Western Australia
Tidbinbilla Nature Reserve, Australian Capital Territor
Penguin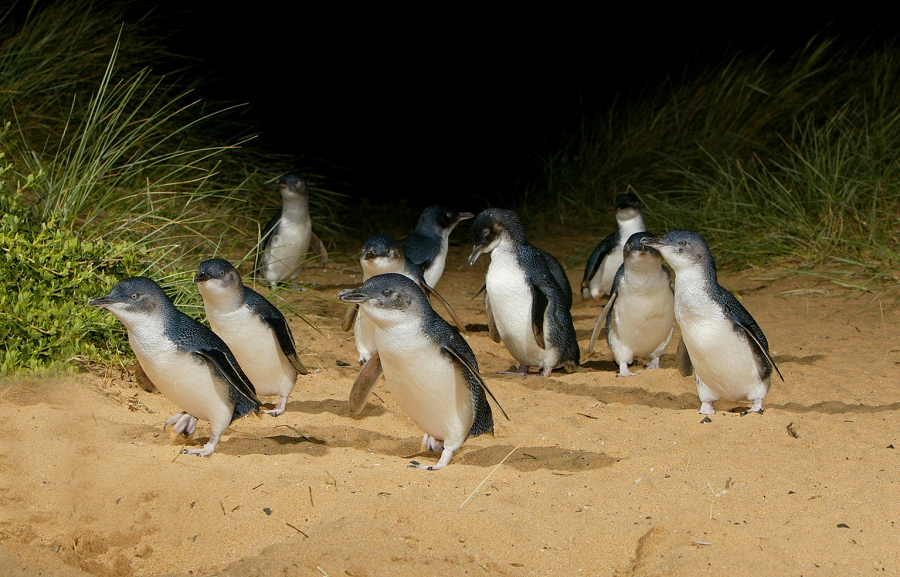 Image credit: Phillip Island Nature Park
Phillip Island in Victoria has the biggest colony of little penguins in the world. Watch the famous 'penguin parade' from the observation boardwalks at Phillip Island Nature Park at dusk as the native little penguins emerge from a long day hunting at sea to waddle back to their burrows. They standing just 33 centimetres (13 inches) tall, it is the smallest penguin species in the world, weighing in at just 1kg!
Another location you can see penguin in the wild is at Penguin Island, Western Australia. The aptly named Penguin Island is home to the largest population of Little Penguins in Western Australia, who visit the island annually to breed and nest. Visits to this untouched island are strictly limited, and only during specific daylight hours in mid-September to early June.
Quokka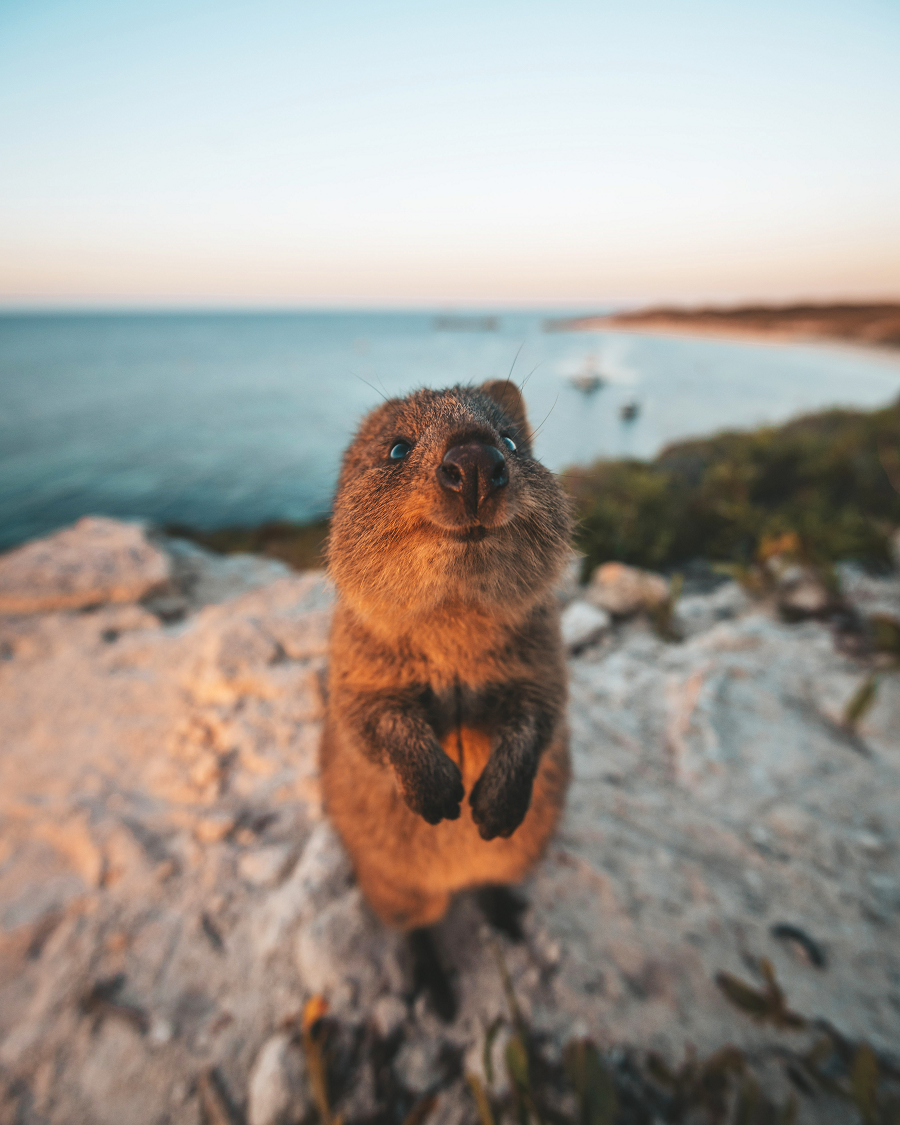 Image credit: Tourism Australia
Kangaroos and koalas might be Australia's best-known animals, but Rottnest Island's adorable quokkas are perhaps Australia's most photogenic furry residents. Rottnest Island is only a 25-minute ferry ride from Fremantle, near Perth, Western Australia. Their smiles are what make them irresistibly cute. You'll see it when one looks up towards you curiously, or mid-meal when they're munching on their favourite leaves. Wait for these moments to capture your photograph, but never feed them. As much as you might want to shout 'aww' from the top of your lungs when you spot a quokka, you might spooked them, so try to be as quiet as you can and do not get too close with them. Best time to visit is during autumn (April and May) and you could get lucky enough to witness a baby quokka peeking out from its mother's pouch.
Wild dolphins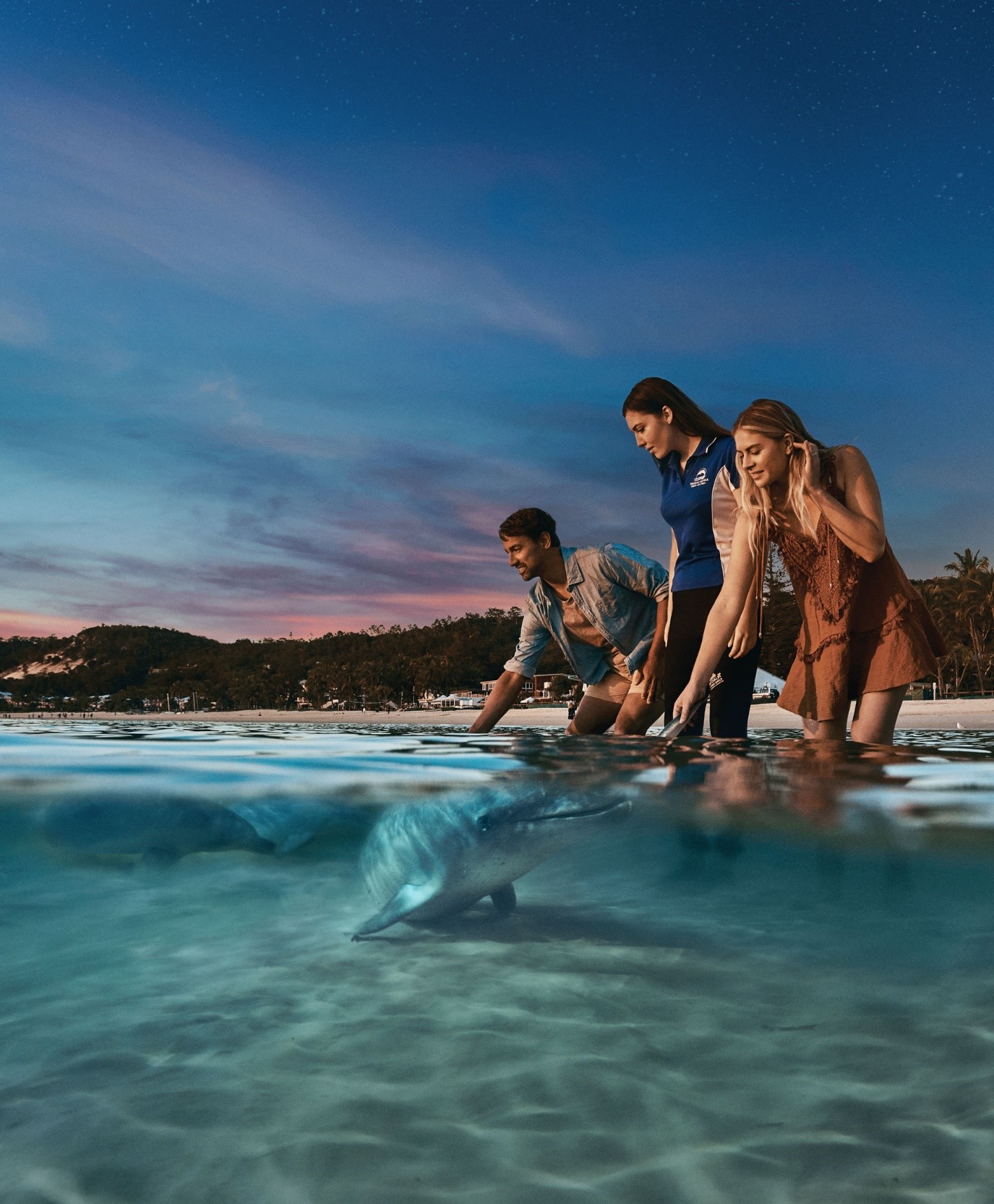 Image credit: Tangalooma Island Resort
Australia offers an abundance of dolphin experiences. Experience feeding dolphins by hand when you stay at Tangalooma Island Resort on Queensland's Moreton Island. The highlight of any visit to Tangalooma is the opportunity to hand feed one of the wild bottlenose dolphins that visit the shores each evening at sunset. Moreton Island just off the coast of Brisbane. Head to the water's edge to watch wild bottlenose dolphins glide right up into the shallows to receive a fish from your hands. Tangalooma Island Resort practices responsible feeding. The Tangalooma Island Resort Wild Dolphin Feeding Program is run to strict guidelines to ensure the safety of all guests and dolphins involved. This ensures the dolphins maintain their natural instincts and independence. Tangalooma only feeds each of the dolphins between 10% to 20% of their daily food requirement; this means the dolphins must continue to hunt for themselves to meet their daily food requirements.
Wombat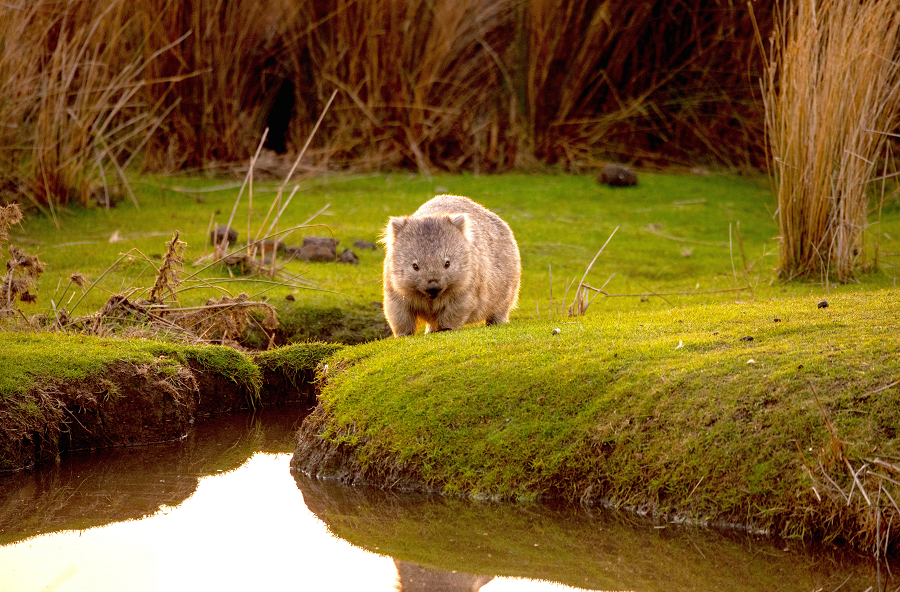 Image credit: Premier Travel Tasmania
Wombats are short-legged, muscular quadrupedal marsupials of the family Vombatidae that are native to Australia. Wombat length 90cm, have stubby tails and weigh between 20 and 39 kg.
Wombats are a vigorous and powerful nocturnal marsupial! They are found throughout southeast Australia, including Tasmania. Wombats dig burrows and chew tree roots using their strong claws, nails and teeth. They are herbivorous and spend the hours of darkness grazing on grasses, shrubs and leaves. Wombats sleep for up to 16 hours a day in their burrows, but you are likely to spot them when they head out to forage for a meal at dusk. Another interesting fact is wombat are known for producing distinctive, cube-shaped poos.
Where to wander with the wombats?
Maria Island or Cradle Mountain-Lake St Clair National Park in Tasmania
Wolgan Valley near the Blue Mountains
Tasmanian Devils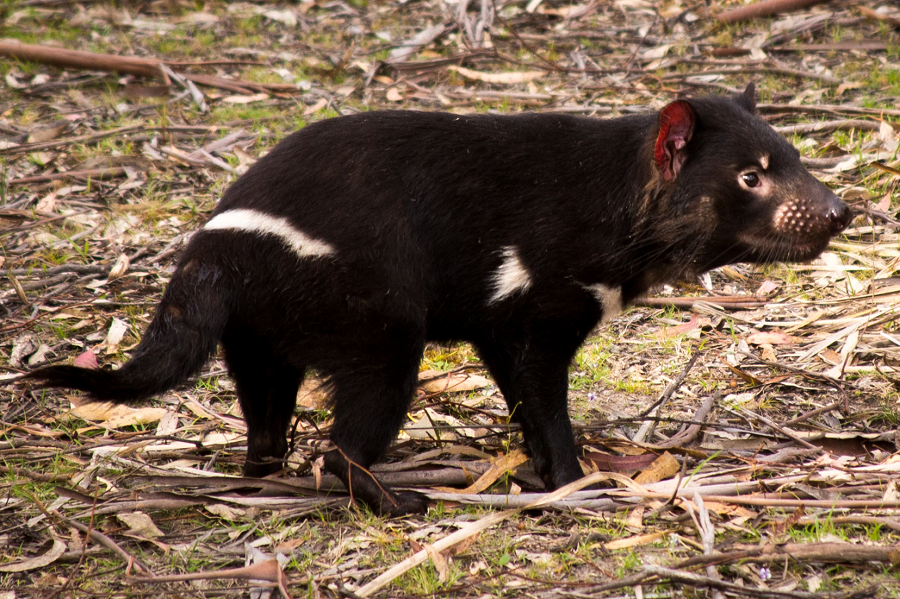 Image credit: Tourism Australia
Tasmanian devils are the largest carnivorous (meat-eating) marsupials in the world. Where better to see the infamous Tasmanian devil than it's eponymous island state?
Here are some fun facts about Tasmanian Devils;
Tasmanian Devils have loud, disturbing screams
Tasmanian Devils bites are very strong – They deliver the strongest bite for its size of any mammal in the world.
Tasmanian Devils store fat in their tails
Tasmanian Devils sleep inside bodies of their prey
A devil joey is born the size of a rice grain – A mother Tassie gives birth to around 20-40 joeys at once. However, these joeys have to race to her pouch, which only has four teats.
See Tasmanian Devils at;
Devils @ Cradle Mountain
Bonorong Wildlife Sanctuary
Wings Wildlife Park
Tasmanian Devil Unzoo
Trowunna Wildlife Sanctuary
Source:
https://www.australia.com/en-my/things-to-do/wildlife.html
https://gdayparks.com.au/articles/10-famous-australian-animals-and-where-to-see-them
https://www.tripsavvy.com/see-penguins-in-australia-4156770
https://www.australiazoo.com.au/wildlife/our-animals/common-wombat/
https://kids.nationalgeographic.com/animals/mammals/facts/tasmanian-devil